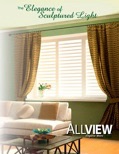 AllView Interior Shutters:
The Ideal Choice for Commercial Applications
When choosing window coverings for hospitality, healthcare and other commercial settings, AllView's custom-made poly resin interior shutters offer a host of benefits over other window covering options.
See how AllView stacks up in all of your important decision criteria:
•Aesthetics: The classic elegance of plantation shutters can enhance any building's beauty. AllView's patented rear tilt control system gives you wide open and unobstructed louvered views, a clean and contemporary look, as well as complete privacy and light control.
•Cost: AllView's Poly Shutters cost less than both traditional wood shutters and imported poly shutters.
•Availability: AllView is custom-made right here in the USA - in just five days! - by a network of authorized fabricators. AllView can be made in a full range of custom shapes and sizes.
•Durability: Virtually indestructible, AllView is moisture resistant and will not chip, warp, crack, peel or fade.
•Safety: Safety is always a paramount concern in commercial applications. AllView is child safe (no dangling cords of any type), fire retardant, anti-microbial and non-porous.
•Environmental Responsibility: This fully recyclable and "green" product has the smallest environmental footprint of any shutter product available. AllView is made from poly vinyl, which has been found to perform best in terms of environmental impact by the U.S. Green Building Council. AllView's poly construction eliminates paint, formaldehyde and VOCs.
•Insulation: AllView's superior insulation values will help lower your energy costs.
•Maintenance: Easily cleaned with a damp cloth, AllView will never need painting or other time-consuming or expensive maintenance.
•Warranty: AllView is fully backed by our Limited lifetime warranty.
Call for a Free Estimate
To learn more about AllView and get a free, no-obligation estimate for your next project, give us a call at 800-737-4569.