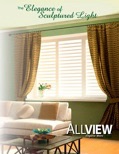 A Superior Indoor Shutter
From an Experienced Shutter Manufacturer
AllView is manufactured by ShutterSMART, a division of US Polymers and the largest indoor shutter manufacturer and fabricator in the United States. Headquartered in Southern California, US Polymers has been serving the window covering industry since 1983.
Leading the "Green" Revolution
ShutterSMART and AllView are working hard to lead the industry towards "greener" and more sustainable practices. ShutterSMART's Polyclad Hardwood Shutters and AllView Poly Shutters are both environmentally-friendly custom shutters that offer you superior, "green" alternatives to the problems and eco hazards associated with a traditional wood shutter.
Made in the USA
ShutterSMART makes a broad range of custom shutters in its Southern California and Florida factories, delivering them through a network of authorized dealers nationwide. From the poly vinyl extrusion - which is done at US Polymer's Southern California facility - to the manufacturing and fabrication, AllView is made entirely in the United States. With AllView you'll never have to wait months for your shutters to arrive on a slow boat from China. AllView works with a network of licensed fabricators across the United States, combining precision equipment with skilled workmanship to manufacture custom shutters in just five days.
Thank you for visiting our website. To contact AllView Shutters, please click here or give us a call at 800-737-4569.