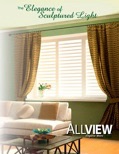 AllView Plantation Shutters:
Beautiful and Built to Last

Plantation shutters have an enduring appeal unmatched by any other interior window treatment. Sophisticated but simple, classic yet always in style, these indoor shutters are the clear choice for today's homeowners.
While all plantation shutters offer a wealth of benefits - including outstanding light control and the ability to increase the resale value of your home - AllView's unique Poly Shutters offer even more advantages for you:
•Unobstructed Views - AllView's patented rear tilt control system gives you wide open and unobstructed louvered views; the hidden tilter doesn't mar the beauty of today's French-style windows.
•Clean and Contemporary Look - These indoor shutters have no unsightly tilter "mouse holes" or unattractive staples that can pull out or rust.
•Proprietary WoodTex Finish - Allows you to enjoy the look and feel of traditional wood shutters without their associated costs, maintenance hassles or negative environmental impacts.
•Extreme Durability - One of the biggest advantages of AllView is that these shutters are virtual indestructible. AllView resists dents and scratches, and will not warp, chip, shrink, crack, fade, peel, mildew or mold. Your AllView Poly Shutters will look just as beautiful twenty years from now as they do today.
•Moisture Resistance - Can even be used in steamy bathrooms and behind the kitchen sink.
•Excellent Insulation - Helps insulate your home and improve its temperature control. So you'll stay cooler in the summer, warmer in the winter and enjoy lower energy bills all year long.
•Easy to Clean - With no paint or wood stain to worry about, AllView simply wipes clean with a damp cloth.
•Added Safety - Fire resistant and no dangerous hanging cords.
•Limited Lifetime Warranty - These long-lasting shutters are backed by a limited lifetime warranty.
•Immediate Availability - AllView is custom made right here in the U.S. by a network of authorized fabricators. While foreign-made products take up to eight weeks to arrive, your beautiful custom shutters will be locally made in just five business days.
It's no wonder so many people choose AllView!
For more information, click here here to download our free brochure.
To schedule a free, no-obligation in-home estimate, click here.