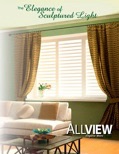 Simply Stunning Interior Shutters
Although most consumers don't realize it, traditional shutters are an environmental disaster. Wood shutters are covered with a thick coating of paint and primer, which release harmful VOCs into the atmosphere and create solid waste into the environment. Less expensive MDF (Medium Density Fiberboard) shutters are filled with formaldehyde, a known carcinogen that can impact your family's health. In contrast, AllView's Poly Shutters, made from a 100% poly resin composite, deliver a superior-and green-solution.
Look Just Like Wood Shutters
AllView's elegant poly shutters are made with our proprietary Woodtex finish that gives the soft look and feel of wood. So you can enjoy all of the benefits of traditional shutters, without any of the environmental consequences.
Good for the Environment
Not only do these poly shutters look beautiful in your home, they also leave the smallest environmental footprint of any shutter alternative. Why? Because unlike traditional shutters, AllView is made from poly resin, a man-made material that is never painted and has been found to perform best in terms of environmental impact by the U.S. Green Building Council.
What exactly does AllView's poly construction mean for you and the planet? AllView is:
• Paint-Free - No dangerous VOC emissions or solid wastes released into the environment during the manufacturing process.
• Durable - Never needs repainting or replacing.
• Recyclable - Will never need to end up in a landfill.
• MDF-Free - So you won't have to worry about formaldehyde, a known carcinogen, out-gassing into your home.
• Energy Efficient - Reduces the amount of energy needed to heat or cool your home.
• Made in the USA - Eliminates the need for trans-Pacific shipping and its associated impact on the environment.
Go green with AllView, the eco-friendly shutters!
To schedule a free, no-obligation in-home estimate, click here.