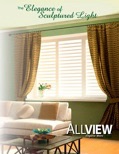 What Would You Like to Know
About AllView Custome Shutters
Why Should I Choose Shutters?
Plantation shutters are the most popular window covering and today's homeowner's #1 choice, and it's no wonder. No other window covering can enhance the beauty of your home and give you light control as elegantly as shutters do. Shutters combine beauty, elegance and functionality, allowing small changes in your view, privacy and light control.
Shutters:
•Architecturally sculpture light and visibility, giving you full control of your living space
•Deliver superb light, noise and temperature control as compared to blinds and shades
•Present a distinct, beautiful, high-end look that will never go out of style
•Increase the resale value of your home
•Enhance the curb appeal and look of your home
•Clean more easily than any other window covering
•Maintain their value better than any other type of window covering
•Are the most energy-efficient window coverings you can buy, saving you thousands of dollars on your heating and cooling bills in the years to come
•Are ideal over sliding glass doors and French doors, where other window coverings just don't work
•Look like new for years
•Are durable and easy to maintain - especially if you choose our AllView Poly Shutters, which are virtually maintenance-free
What are the advantages of AllView poly resin shutters?
AllView's Poly Shutters are made entirely from poly resin and use our patented WoodTex(tm) finish - so you get the warm look and feel of wood shutters but in a superior, "green" product. Some of AllView's many advantages include:
•A clean and contemporary look with no visible tilt rods.
•No unsightly "mouse holes" and no staples that can rust or pull out.
•Extremely durable; won't warp, chip, shrink, crack, fade, peel, mildew or mold
•Virtually maintenance-free
•Environmentally friendly
•Safe
•Moisture resistant
•Made in the USA in just five days
Since AllView is made of poly resin, will my shutters have the look and elegance of wood shutters?
Yes, they will! Not only is AllView made from a very high-quality and extremely durable poly resin composite, it is finished off with our patented Woodtex(tm) finish. Your AllView Poly Shutters will have the warmth, look and feel of painted wood shutters. In fact, if you put your AllView shutters side-by-side with traditional painted wood shutters, you'd have a hard time telling them apart (that is, if you didn't know that AllView is the one with the hidden tilter bar and clearer views!).
Why is it called "All View"?
With AllView's patented system, the tilter bar (i.e. the thing you use to open or close the louvers) is hidden in the back of the shutter. As the tilter bar is no longer at the front of the shutter, this gives you clear unobstructed louvered views.
Of course, for those who prefer a more traditional tilter bar, an optional front tilt rod add-on is also available.
What's the difference between "custom shutters" and "custom-made shutters"?
At AllView, these terms mean the same thing: A plantation shutter that is custom-made for the specific measurements and requirements of your window. Some shutter makers, however, will take a pre-built shutter, cut it down to fit your window, and call it "custom." This often results in a poorly-fitting shutter that does not look quite right or function properly.
Why Should I Care if a Shutter is "Green"?
Few people realize it, but traditional wood and MDF (medium density fiberboard) shutters are an environmental disaster. Each year about three million shutters are sold in North America. And each year the materials and manufacturing methods used to make these three million shutters results in up to nine million pounds of hazardous materials going straight into our environment!
AllView is working hard to be part of the solution, and we invite you to join us. What we do at home really does matter to the environment. The choices each of us make can and do have an impact on our planet - and our families' health. Choosing Green is an easy lifestyle decision when we select products that are environmentally friendly. Simple choices in products can add up quickly to make a huge impact in the world around us.
AllView's Poly Shutters are a superior, environmentally-friendly product that actually costs less. These custom shutters won't out-gas, fade, chip, peel, crack or require repainting or replacing. AllView is:
•Paint-free
•Formaldehyde-free
•Made in the USA (eliminating the need for trans-Pacific shipping)
•Recyclable
•Energy efficient
Does AllView offer a choice of colors?
Yes, AllView's Poly Shutters are available in two neutral shades that can fit in any décor:
•White - A bright white that is our most popular color
•Swiss Coffee - An off white color that is used in many homes
How big are AllView's louvers?
AllView is available in 3-inch and 4-inch louver sizes.
How do I clean my AllView shutters?
Unlike wood shutters, AllView's Poly Shutters are extremely easy to clean. Simply wipe with a soft, wet cloth. If necessary, a mild soap can also be used; see the AllView warranty for additional information on AllView's maintenance and care.
When will my AllView custom shutters be ready?
AllView is manufactured in the USA through a network of local licensed fabricators. Your standard custom shutters will be manufactured in just five business days from the time your confirmed order is received. Specialty shutters, such as arch shapes, take longer.
Will installation take a lot of time?
No. Depending on the number of shutters you have purchased, your AllView Poly Shutters can be installed in a matter of hours or, at most, a full day.
I'm a real do-it-yourselfer. Can I install my shutters myself?
Yes, if you are careful to follow our written installation instructions. However, we recommend that you have your shutters professionally installed by your authorized AllView dealer. Professional installers are trained and experienced in the design, measure and installation process. Using their services ensures that you avoid costly mistakes.
Does AllView offer a warranty?
Of course! Your AllView Poly Shutters are built to last and backed by a limited lifetime warranty. Click Here to see the details.
How do I buy AllView?
AllView is sold through a nationwide dealer network. Click here to find the AllView dealer nearest you.