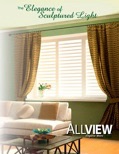 Why Choose Allview Plantation Shutters over
Other Window Covering Options?

If you're looking to update your home with new window coverings, you have four basic options: curtains, shades, shutters and blinds. While all of these choices have their pros and cons, only AllView plantation shutters from AllView - made from an environmentally-friendly poly resin composite - provide a host of advantages that other window coverings do not. For example, AllView is locally made in just five days; other shutter options take up to eight weeks to be delivered.
Plantation Shutters vs. Curtains
Depending primarily on the fabric chosen, curtains can be either extremely inexpensive or surprisingly costly. The soft look of fabric is essentially the only real benefit that curtains offer. When closed for privacy they also block out most air and light. When open for air flow they offer absolutely no privacy or light control. Curtains attract dust and dirt; to keep them looking their best you must remove them and have them cleaned (often via expensive dry cleaning) on a regular basis. With proper care, most curtains can be expected to last for just six to ten years.
In comparison, the hidden tilt-bar on AllView's custom window shutters allows the louvers to be adjusted for everything from a clear and open louvered view to total privacy, while still allowing air to flow in and out. And unlike traditional wood shutters, these eco-friendly poly resin composite shutters are very easy to care for, as they can simply be wiped down or washed in place as necessary. Plus, long after curtains have fallen apart, your AllView shutters will still look like new.
Plantation Shutters vs. Shades
From the standpoints of light, air and privacy, shades are very similar to curtains. When closed they offer total privacy, but they also block nearly all light and air. When open they allow for plenty of air flow, but offer no privacy or light control. From the interior design standpoint, shades are usually thought of as inelegant and unattractive - something to be set behind more visually appealing window coverings when you want to be able to completely block out the sun's light.
AllView Plantation shutters are a superior choice. Their louvers can be closed completely to block out light, or they can be tilted to provide privacy while still allowing light and air to flow into the room. Plus, these eye-catching poly resin composite shutters look just like wood shutters, enhancing the appeal of any room.
Plantation Shutters vs. Window Blinds
While both shutters and blinds feature adjustable louvers that allow you to create privacy and control the flow of light into a room, they differ tremendously in aesthetics, quality and value. Window blinds are very difficult to clean and offer almost no insulation or energy efficiency benefits. The strings that hold a blind's louvers in place can break over time, while the hanging cords tend to get tangled. Depending on the louver material used, window blinds can bend, break, fold or scratch, and will generally only last for about five to eight years. Blinds also do little for a home's value.
In comparison, elegant AllView Poly Shutters will enhance the beauty and value of your home with a window covering that provides a great deal of insulation. Your AllView shutters will look like new for many years to come, easily wipe clean with a damp cloth and be virtually indestructible. When choosing between shutters and blinds, keep in mind that while blinds are considered "run of the mill," shutters are one of the lowest-cost/biggest "wow factor" remodeling projects that you can do to upgrade your home.
Composite Shutters vs. Traditional Wood Shutters
Traditional wood shutters are beautiful to look at, but wreak havoc on the environment and can result in dangerous VOCs out-gassing into the environment during the manufacturing process. They can also be a maintenance nightmare. Because they're made out of painted wood, wood shutters can warp, crack, chip, scratch, swell, fade or peel. They periodically require repainting. They don't hold up well to high moisture situations (such as in coastal homes, kitchens and bathrooms) and contain staples that often rust or pull out.
The beautiful poly resin composite shutters available from AllView give you the look of wood shutters without any of their associated pitfalls. Durable and eco-friendly, these shutters are energy-efficient, virtually indestructible and maintenance-free. Install them throughout your home and then rest easy knowing that your shutters will look as fresh and elegant 20 years from now as they do today.
If you're looking for window coverings that are both functional and aesthetically pleasing, composite shutters from AllView are the clear and obvious choice. To schedule a free, no-obligation in-home estimate, click here.