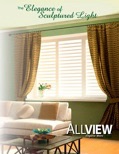 Get the Perfect Plantation Shutters
For Every Room an Window

Close your eyes and imagine being able to enjoy the timeless elegance of plantation shutters in every room of your house. Now imagine that your new window coverings give you even more than what you'd get with traditional wood shutters: more clear views (no tilter bars to obstruct your vision), more insulation, more peace of mind (because these shutters are maintenance-free and virtually indestructible) and more money left over to spend on other things.
Custom Designed for Your Home
AllView's beautiful Poly Shutters are custom made and available for every window in your home, from living rooms to bath rooms. Choose from six frame styles and two neutral colors (White and Swiss Coffee) that match virtually any interior. Take advantage of our money-saving track styles for sliding glass doors, room dividers or closet doors, or order one of our specialty shapes to cover your arched windows.
•Available for All Windows - A stylish enhancement for all the windows in your home, including standard rectangular windows, French windows, café style windows, bay windows and corner windows.
•Patio Doors - Bypass or track shutters are ideal for sliding glass doors, and AllView's elegant track system eliminates bulky frames on sliders.
•Many Specialty Shapes - Available in eyebrow, elliptical, half circle, and quarter circle, all with frames that coordinate with our standard-shaped Poly Shutters.
•Elegant Frames - From decorative inside mount Z frames to beautiful outside mount frames.
•Decorative Valences - Elegant valences are available for bypass sliders.
•Split, Hidden Tilt Rod - Provides independent louver adjustment.
•Alternative Uses - Also perfect for use as a closet door or room divider.
AllView's custom-made Poly Shutters give you the look of wood shutters, but at a better price and with a superior product.
To schedule a free, no-obligation in-home estimate, click here.